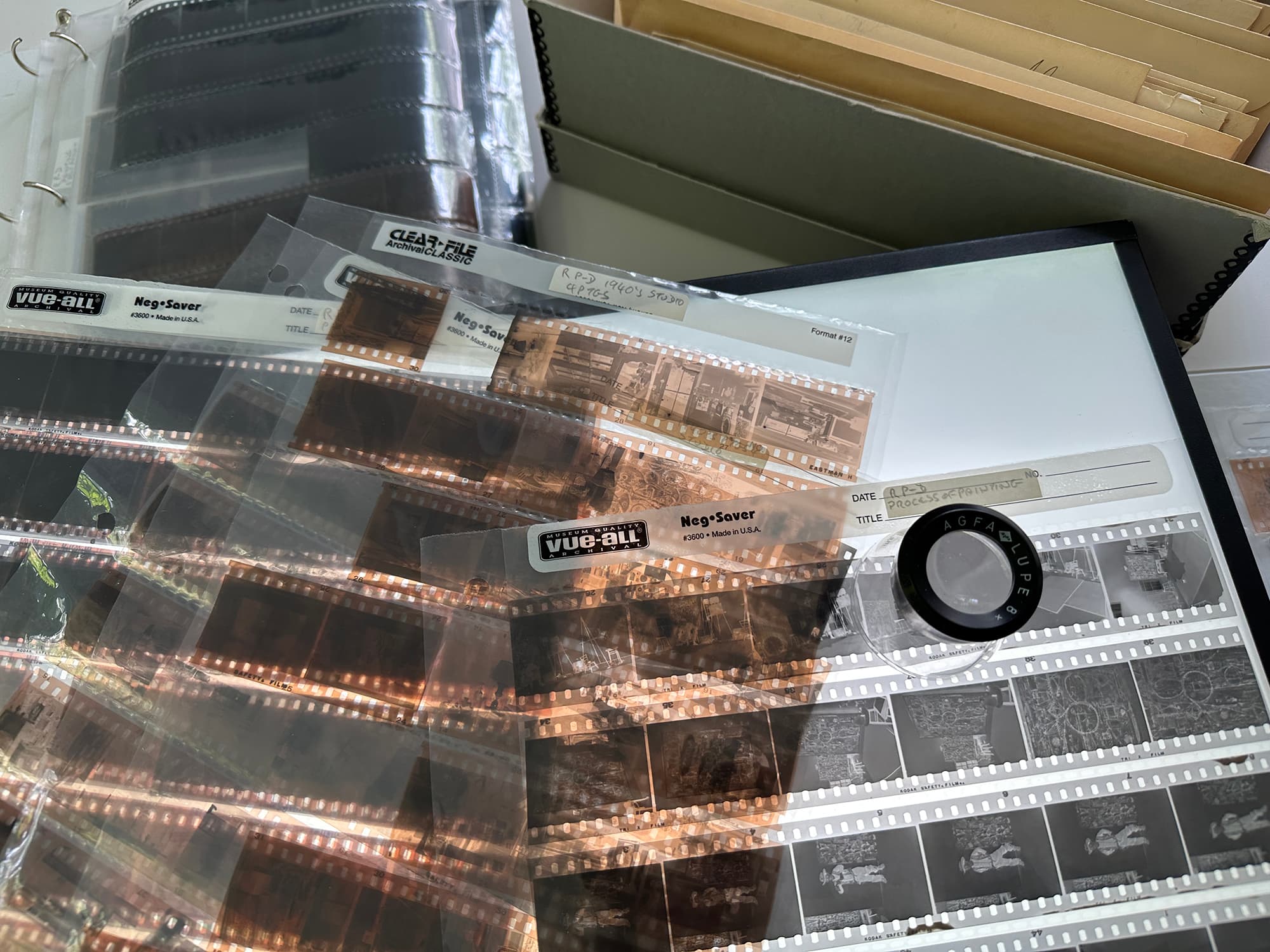 Preparing for a new exhibition provides the opportunity to explore a wide range of materials pertaining to an artist's work and life, and perhaps the chance to find something never seen before.  Richard Pousette-Dart was not only a painter, sculpture, draftsman and printmaker, but also a photographer. He created fine art photographs and used the camera to capture many aspects of his life.  A new exhibition, therefore, gave me reason to investigate his treasure-trove of negatives to see what surprises it held: his printed photographs had been used in the past to illustrate the story of the artist's life, but never had negatives been used as documentary sources. 
The exhibition I was researching was Richard Pousette-Dart: 1950s Spirit and Substance, which took place at Pace New York from November 11 – December 17, 2022.  The show focused on the 1950s, the period immediately after the artist and his family moved from their New York City apartment to Orange and Rockland Counties, where they eventually lived in three different homes. In each of them, Pousette-Dart set up a darkroom, and throughout the decade he was very active as a photographer, receiving widespread recognition for his work. For the Spirit and Substance catalogue, the idea of including his photographs seemed a perfect vehicle for chronicling the period.  
The family's first home north of New York City was located in Sloatsburg, New York. There, Richard Pousette-Dart used a garage-like structure at the back of the property as a studio.  I knew of several photographs of the artist standing outside this building as well as sitting within a small interior corner of its loft, but little was known about the rest of the studio interior.  Looking through a group of mismatched medium-format negatives, one showed a small room inside the structure that was used for a sculpture studio. This negative (to our knowledge no print was ever made) showed not only his working space but also several sculptures in the process of being assembled.  It was during these years when he began work on his wire sculptures, and since the works were planned as part of the upcoming exhibition, this incredible negative offered an exciting glimpse into Pousette-Dart's process and confirmed dating for the works.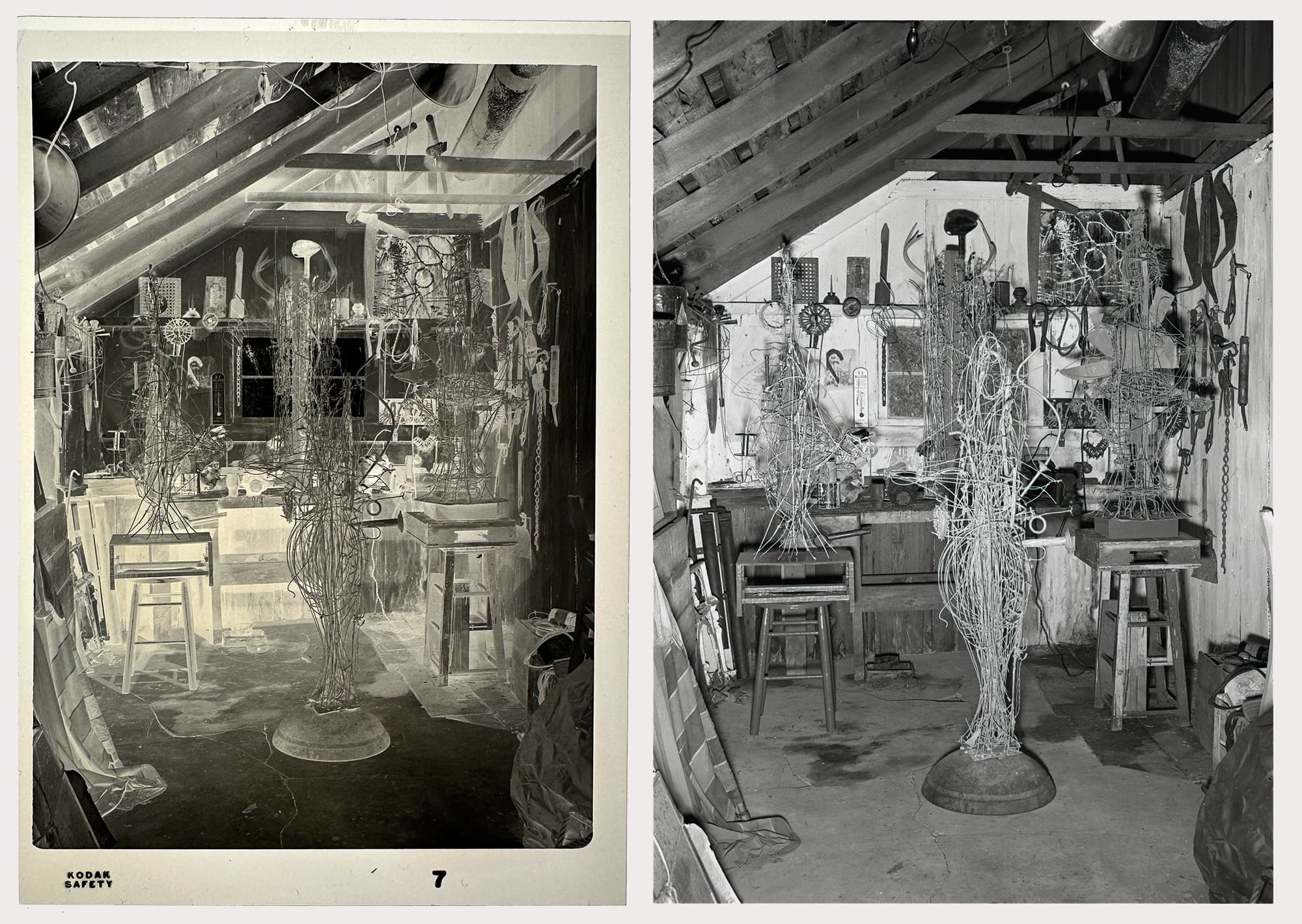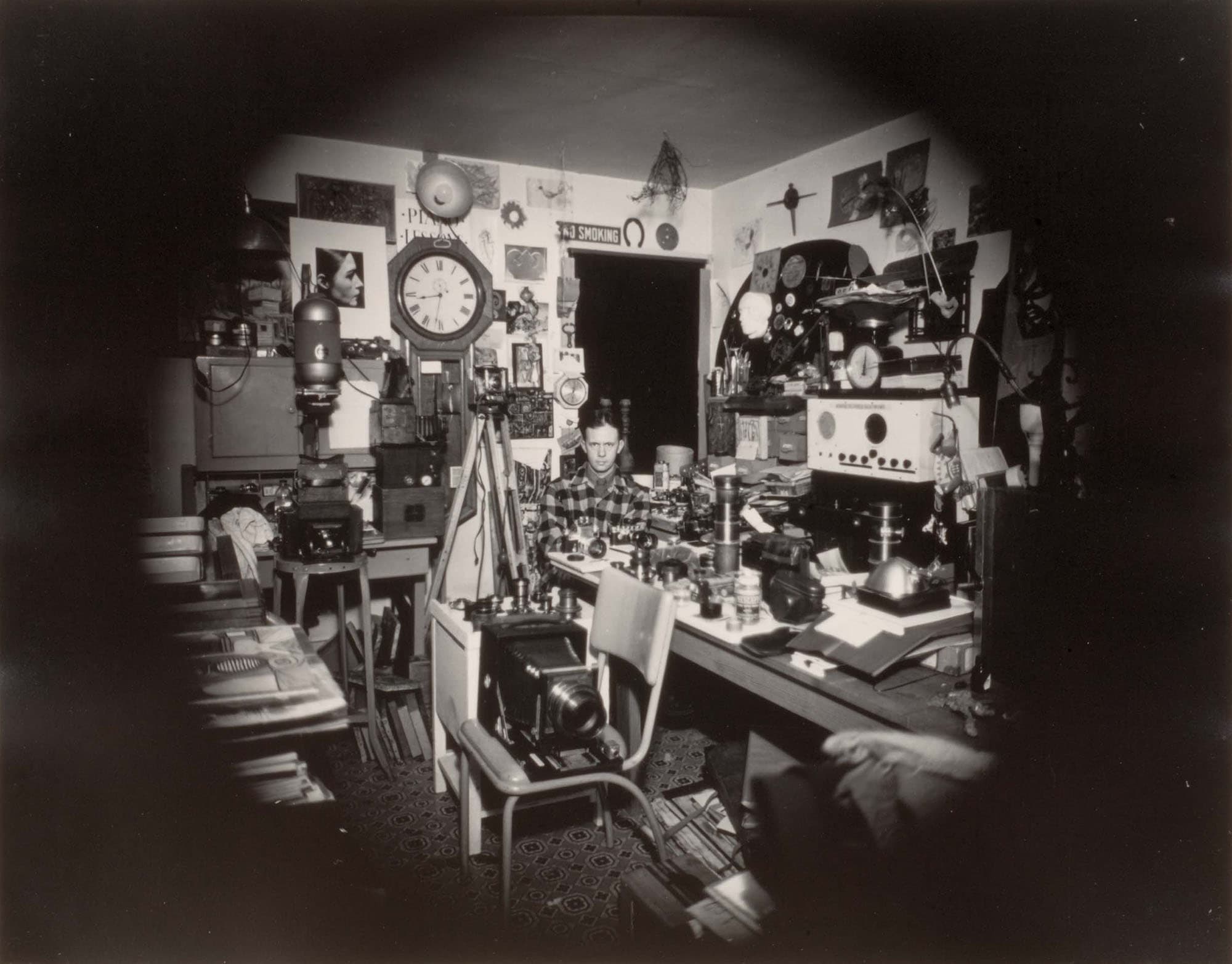 Another negative discovery added significance to a well-known self-portrait photograph by Richard Pousette-Dart set within his Sloatsburg photography studio, located inside the family's house. Here, the artist showed his intense passion for photography by including an abundance of photographic equipment –  cameras, lenses, enlargers and tripods cover all surfaces. In an envelope marked "Jo on Swing," mixed with a variety of images of his daughter Joanna, was a medium-format negative that showed this photography studio in a different light.  The frame is tighter than in the gelatin silver print and provides a much more intimate feeling.  Within the print that I was familiar with, a large black space over the artist's left shoulder had been assumed to be a door. The new negative showed that it is not a door, but a window that could be sealed off to block light, and that the room served as more than a darkroom. The versatility of the space is revealed in additional unprinted negatives that shows his wife Evelyn with their two young children sitting in the same corner next to the window. Tools for Pousette-Dart's brass sculptures and many of his works on paper appear prominently in the space.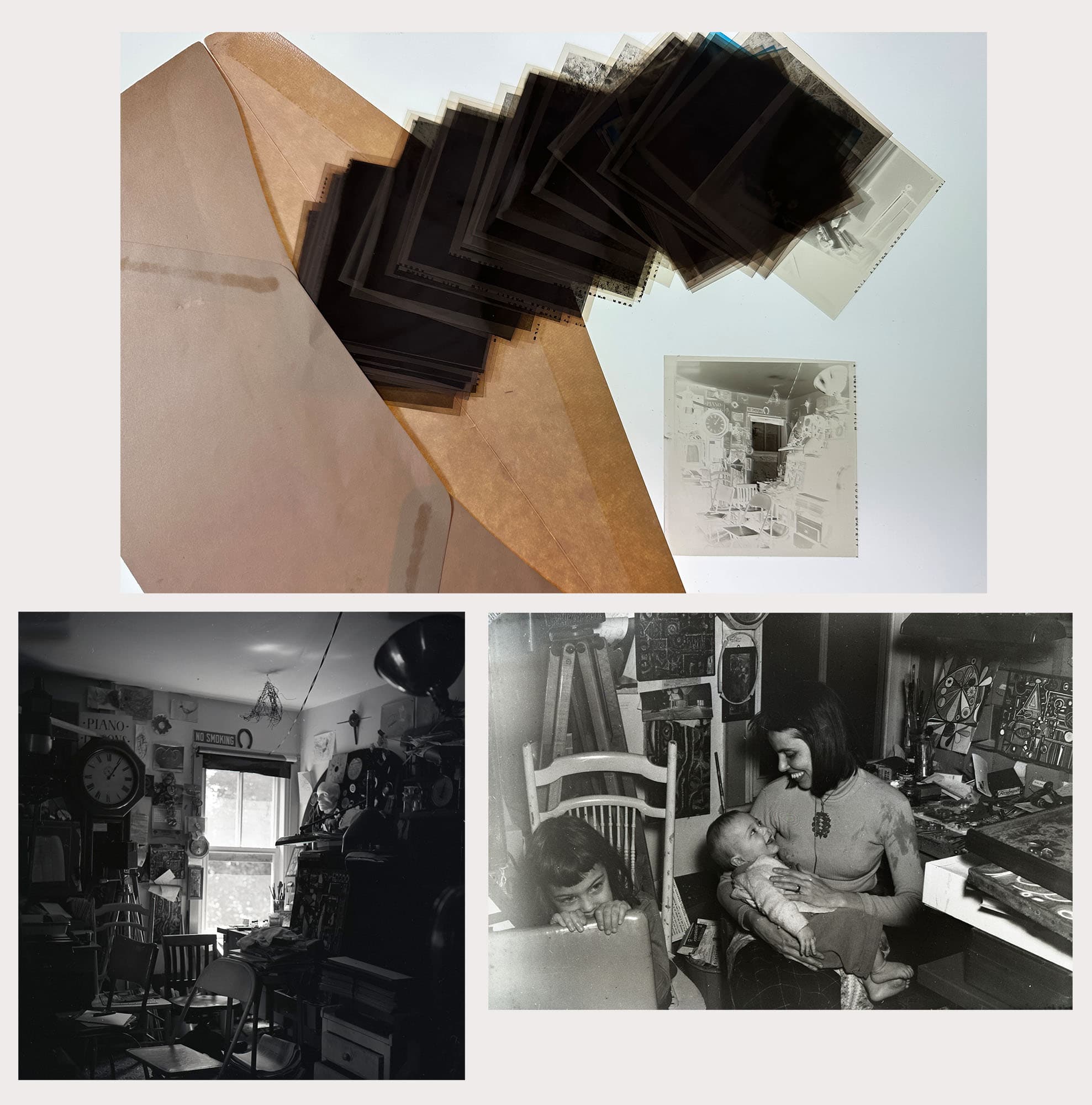 By the mid-1950s the Pousette-Dart family had relocated to nearby Monsey, New York. Previously, we had limited knowledge of what the artist's studio looked like at this home, but negatives scattered between several plastic sleeves and mismatched envelopes pieced together images of this space.  These negatives were an exciting double find, as they not only provided views of the studio, but documented the progression of a painting in progress.  Through them, one can observe how the canvas emerges through many layers of paint, and at the end we were able to identify the work as White Gothic Number 3, now at the Philadelphia Museum of Art.  

The Foundation is fortunate to maintain an incredible collection of printed photographs by Richard Pousette-Dart. They provide immense insight into his visual thinking and printing processes, yet like most photographers Pousette-Dart only made a selection of prints from the vast number of negatives he exposed. The collection of negatives is now proving to be an extremely valuable resource for learning more about the artist's working environment and his artistic processes across all mediums. Even if an image was never made into a print, these negatives reveal how Pousette-Dart selected, framed and composed subjects deemed important enough to him record through photography.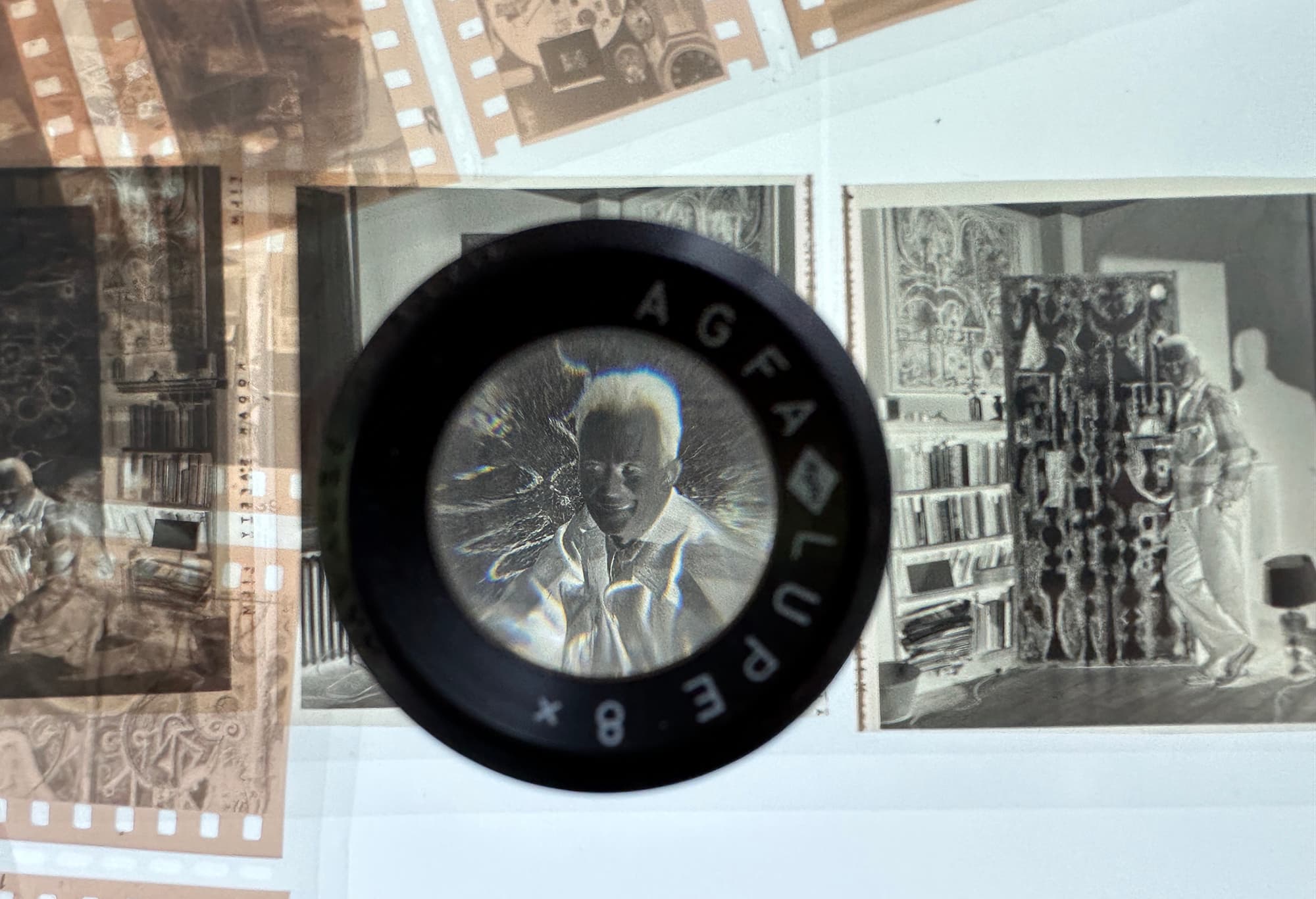 Dana Martin is Curator of Photography at the Richard Pousette-Dart Foundation.
•••